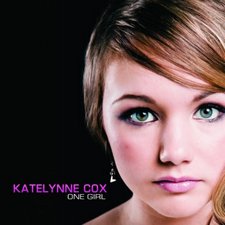 Katy, Katy.... According to the Dictionary, Deja Vu is the experience of feeling sure that one has already witnessed or experienced a current situation. I get that feeling listening to
One Girl
, the debut release by 16 year old Katelynne Cox. Let me begin with the facts at hand.
"A fresh faced teen with an amazing voice"
Signed by a label from Portland, OR
Lyrics that speak of experience
A name which could be nicknamed KATY
In 2011 Katelynne Cox, "a fresh faced teen with an amazing voice", but also a "seasoned soul with a wealth of experience that adds integrity, character and emotional weight to her budding artistry" is discovered by Darren Bowls, the President of Red Hammer Records in Portland, OR after Cox makes a recording of the National Anthem at KUPL Radio.
10 Years earlier, in 2001, Katheryn Elizabeth Hudson made a self titled Christian Rock CD with Red Hill Records of Portland, OR. The CD was deemed a failure after the label went out of business that Summer. Hudson withdrew from the CCM scene and re-emerged in the mainstream music scene, using her mothers maiden name as Katy Perry, where she has achieved a modest success.
Spooky. Now I'm not making predictions that Cox will go secular as the new Perry, though she has already gone through a rebellious phase by dying her hair black. (Perry has black dyed hair). A word of advice, ask to see the financial books of Red Hammer Records.
Now, on to the album itself. Of One Girl's 12 Songs (there are 13 tracks, but one is a Dance Mix of Me), most are of the pop or dance variety. The
Title Cut
, which opens the CD and is also the first Radio Single, is the most obvious Dance Club tune, and makes use of some live material.
You Satisfy
,
which might be classified as a Praise Song, also seems to resemble the "Aggressive Smile Pop" feel that marked the Echoing Green. My favorites on the CD are
15 Minutes of Fame
and
As We Go
,
which highlights her vocal range the best. The latter song is full of potential. Her voice is still immature. It may never develop the range of a Plumb or Sarah Kelly, but there are slight hints in the latter song that it may come close enough.
I'm going to go out on a limb a bit, and give
One Girl
by Katelynne Cox
4 Emeralds.
That should be enough to ensure a final spot in the Best New Artist Category, but it probably wont be enough to hold up in the Pop or Dance Categories, and that is probably as it should be. This is a debut, and a promising one. The ball is now in the CCM Industry's Court. It is their responsibility to learn from their mistakes and make sure K.C.'s rise to fame, should it occur, happens in the Kingdom and not out of it. If that happens, it will make a lot of us smile.
Related Post: